Top 13 Cyber Security Courses & Cybersecurity Certifications
CyberSecurity Courses & Certifications
Cyber Security Courses & Cybersecurity Certifications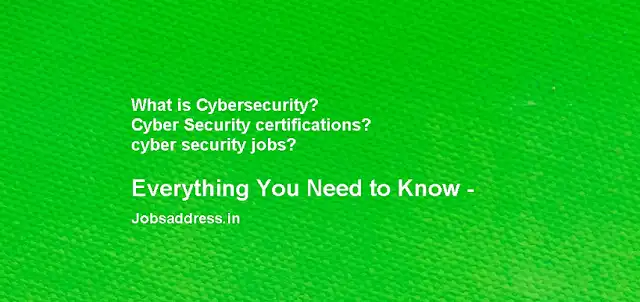 Best Certifications - Cybersecurity
CEH- Certified Ethical Hacker
CISM- Certified Information Security Manager
CompTIA Security+
CISSP -Certified Information Systems Security Professional
GSEC- GIAC Security Essentials
ECSA- EC-Council Certified Security Analyst
GPEN- GIAC Penetration Tester
SSCP- Systems Security Certified Practitioner
CRISC- Certified in Risk and Information System Control
CISA- Certified Information Systems Auditor
CHFI- Computer Hacking Forensic Investigator
CCSP- Certified Cloud Security Professional
CCNA- Cisco Certified Network Associate Security
What is cyber security?
Cyber security refers to the body of technologies, processes, and practices designed to protect networks, devices, programs, and data from attack, damage, or unauthorized access.
What skills are needed for cyber security?
The Top Skills Required for Cybersecurity Jobs are following
A Desire to Learn
Problem-Solving Skills
Attention to Detail
Technical Aptitude
Communication Skills
Knowledge of Security Across Various Platforms
An Understanding of Hacking
Fundamental Computer Forensics Skills
How does cyber security protect us?
While IT security protects both physical and digital data, cyber security protects the digital data on your networks, computers, and devices from unauthorized access, attack, and destruction.
What is cyber security and its types?
Cybersecurity refers to the protection of devices, processes, infrastructure, and assets of the organization from cyber-attacks, data theft, breaches, unauthorized access, etc. Cybersecurity is an umbrella term that encompasses different types of security.
Is cyber security a good career?
Luckily for cyber security professionals, this generates great demand for jobs. According to the Bureau of Labor Statistics, employment of Information Security Analysts is projected to grow 40 % from 2002 to 2022, which is much faster than average.
Cyber Security Certification is a must to become a cybersecurity specialist?
There is an unprecedented amount of data that is being generated, stored, and processed all the time by the scientific, corporate, government, military, financial, and medical organizations, a significant of which is very sensitive and requires continuous protection. Cybersecurity concerns with the technologies and practices implemented to protect this virtual world. It is the practice of securing systems, networks, and programs from digital threats, damage, and unauthorized access. It also refers to the protection of information technology. For proper protection against cyber-attacks, every organization needs to account for each of the following elements:
Application Security
Business Continuity
Cloud Security
Data Security
Database and Infrastructure Security
Disaster Recovery
End-User Education
End Point Security
Identity Management
Mobile Security
Network Security
Cyber Security Job Profile-
The main job of a cybersecurity professional is the protection of data. The job responsibilities of cybersecurity professionals are very complicated and span across all organizations. Before you look for cybersecurity certification, you need to look into the different career options. These are but not limited to:
Security Specialist
Security Administrator
Security Architect
Security Analyst
Security Auditor
Security Director
Security Consultant
Security Engineer
Cryptographer
Chief Information Security Officer
Vulnerability Assessor
Incident Responder
Forensic Expert
Penetration Tester
Source Code Auditor
Security Manager
Cryptanalyst
Cybersecurity Certification
Most of the Cyber Security jobs require a four year Bachelor's Degree in Computer Science or Information Technology. It generally covers a foundation in Programming, Database, and Statistics with an insight into Artificial Intelligence, Cryptography, and Ethical Hacking.
A Master's Degree takes an additional one to two years after the Bachelor's Degree. It provides advanced instruction in protecting computer networks and infrastructures from threats. You learn about ethics, policies, and procedures of cybersecurity and how to carry out security measures and defense techniques. It prepares students to be sophisticated practitioners and enables them to investigate critical technologies such as digital forensics, biometry, and cryptography.
Cyber security certifications come in all shapes and subjects — from forensics to intrusion to ethical hacking. To know more visit
Jobs address
Best Cybersecurity Certifications
There are many numbers of online and traditional on-campus programs for cybersecurity certifications. Most of them focus on network and data protection at different levels. Each certification prepares an aspirant for a specific purpose. Such courses explore cryptographic techniques, computer security, digital forensics, and designs for network perimeter defenses. Let us look into the different cybersecurity certifications worth considering. Before choosing a cybersecurity certification, it is essential to make sure that the course is accredited and aligns with the targeted career goal.
CEH: Certified Ethical Hacker
This certification teaches you how to think and act like a hacker. Topics in this certification cover hacking technologies, the latest vulnerabilities, information security laws, and standards. Students are put through real-time scenarios, exposed to hacking techniques, and finally taught how to scan hack and protect their system from the same. This course benefits security professionals, site administrators, and anyone concerned with network security. This certification gives you an edge towards penetration testing jobs.
CISM (Certified Information Security Manager)
It is a top credential for IT professionals in enterprise-level applications for developing the best organizational security practices. An aspirant here needs five years of proven cybersecurity experience. However, a combination of education and experience may also be substituted for this requirement. The CISM is valid for three years, and credential holders need to pay an annual maintenance fee. Credential holders of this certification possess advanced skills in following :-
Security Risk Management
Program Development and Management
Governance
Incident Management and Response.
CompTIA Security+
It is a general level certification for those who are new to cyber technology. It requires two years to complete it. It covers the following :-
Network threats and defense techniques
Effective security policies
Network and Host-based security practices
Disaster Recovery
Encryption Standards and Products
CISSP (Certified Information Systems Security Professional)
Many IT organizations consider this certification as an essential requirement for network security. It is a vendor-independent certification and can be applied to a wide variety of set-ups. This certification requires prior experience of 3 – 5 years, and once completed, it is one of the best knowledge assets you can have. This course covers the following fields :-
Access Control
Cryptography
Telecommunications
Networking
Cyber Security Certification: GSEC
This certification requires five years of relevant work experience. It is an entry-level certification designed for professionals who aspire to occupy 'hands-on' security roles. GSEC certified professionals possess technical skills in identifying and preventing wireless attacks, access controls, authentication, password management, DNS, cryptography fundamentals, ICMP, IPv6, critical public infrastructure, Linux, Network Mapping, and Network Protocols. This certification needs to be renewed every four years along with a payment of certification maintenance fee, also every four years. It is more of management focused certification, and it covers the following:-
Information Security Program Development and Management
Information Security Management
Information Security Incident Management
Information Risk Management and Compliance
EC-Council Certified Security Analyst ( ECSA ) -
This certification is similar to the CEH certification. This certification gives you an understanding of hacking tools and the latest technologies. This certification is suitable for Network Server Administrator, Information Security Tester, Firewall Administrator, System Administrator, Risk Assessment Professional, and more.
GPEN: GIAC Penetration Tester
It is a certification for personnel whose job duties involve assessing target networks and find security vulnerabilities. The topic areas for this certification are:
Password Formats and Hashes,
Advanced Password Attacks,
Attacking Password Hashes,
Exploitation Fundamentals,
Escalation and Exploitation,
Domain Escalation and Persistence Attacks,
Kerberos Attacks,
Metasploit,
Moving Files with Exploits.
Penetration Test Planning
Penetration Testing with PowerShell and the Windows Command Line
Scanning and Host Discovery,
Vulnerability Scanning
Web Application Injection Attacks
Web Application Reconnaissance.
SSCP: Systems Security Certified Practitioner
This certification ensures that you have acquired the advanced technical skills to implement, monitor, and administer IT infrastructure using best security practices, procedures, and policies established by the cybersecurity experts.
Systems security certified practitioner
certification is ideal for IT administrators, managers, directors, and network security professionals, including those holding the following job positions:
Network Security Engineer
Systems Administrator
Security Analyst
Systems Engineer
Security Consultant/Specialist
Security Administrator
Systems/Network Analyst
Database Administrator
CRISC: Certified in Risk and Information System Control
It is an enterprise risk management qualification for professionals looking forward to extending their knowledge and experience of IT, Business Risk, identification, and implementation of Business Systems Control. CRISC is one of the first certifications which help to prepare IT professionals for real-world threats. It adds a higher value to employers and clients in risk assessment and management, fosters continuous knowledge, and up to date information. CRISC certification is targeted towards professionals whose job responsibilities include the following job roles:
IT Professionals
Risk Professionals
Control Professionals
Business Analysts
Project Managers
Compliance Professionals
CISA: Certified Information Systems Auditor
This certification focuses on Information Auditing. CISA certified professionals have good audit experience and can manage vulnerabilities. It, too, requires five years of prior experience. Students gain expertise in the following:-
Information Systems Auditing
IT Management and Governance
Protection of Information Assets
CCSP: Certified Cloud Security Professional
Traditional IT security protocols do not work in a cloud environment. This certification gives IT professionals a deep understanding of cloud architecture, its design, operations, and services. It needs five years of prior experience. This certification covers the following:-
Concepts of Cloud Architecture and Design
Cloud Data and Security
Platform and Infrastructure Security
Cloud Operations
Legal and Compliance
CHFI: Computer Hacking Forensic Investigator
This is an advanced cybersecurity certification for forensic network security investigators. It enables you to gather the necessary evidence and prosecute offenders in a court of law. The hacking forensic investigator is responsible for analyzing attacks, extricating information, report hacking crimes, and conduct audits to prevent future crimes. This certification covers the following :-
Incident Response and Forensics
Recovering deleted, encrypted or damaged file information
Technical Examination & Analysis
Reporting of Computer-based evidence.
CCNA: Cisco Certified Network Associate Security
It is a Cisco Certified associate-level certification that goes a long way in taking forward your career in CISCO Security. By completing this certification you can able to:-
Recognize threats and vulnerabilities in CISCO network
Mitigate Security Threats
Develop an effective security infrastructure.
There are more programs or certifications provided by them that may coincide with your career goal.
In addition to the certifications listed above, don't miss out on reviewing the various other useful IT Security of the Training Providers and the programs offered by them.
Cybary
EC-Council
FedVTE
Global Information Assurance Certification
Infosec Institute
(ISC)2
MIS Training Institute
Offensive Security
The SANS Institute
Secure Ninja
Security University
The future of cybersecurity:-
Around the world cyber crime is on the rise by 2050 smart cities and homes will be the norm your fridge will tell a drone to pick up fresh milk when you run out and lampposts we'll change the intensity of street lights when smartphones and therefore humans are nearby in this hyper connected world the threat cyber criminals pose will only grow in the home smart devices including voice assistants vacuum cleaners and toilets will be easy pickings for hackers while these poorly secured gadgets do not store sensitive data themselves they link to others that do and are vulnerable access points for criminals meanwhile artificial intelligence is a double-edged sword while AI systems can help to identify incoming threats attackers can also use them to unearth Vanar abilities in future foreign powers or cyber criminals could cripple a country's electricity network by taking over the AI that controls it all they could cut off the water supply or even cords traffic Hales on the roads AI could also help identity fraudsters by generating deep fakes these digital doppelgangers are currently a novelty but the techniques used to create them a rapidly improving with increasingly realistic depictions of people so far they've mostly been used as part as revenge pornography but a realistic digital avatar could be a useful cover for wheedling key details such as passwords or bank details out of targets but the struggle to keep system secure is not hopeless by 2050 much poorly written and outdated code will be removed and replaced by more secure alternatives even passwords can be phased out obsolete and less secured in facial recognition software deep fakes could be beaten by constant verification systems that track eye movements faces and keystrokes to ensure the person behind the keyboard is who they claim to be but that risks putting cybersecurity over privacy policy makers and designers must work hard to ensure that this does not become a binary choice.

Conclusion:-
Before you dive into this career, understand the very need for this service. What you are protecting and what happens if it is not protected are two very elementary instincts for this job role. There is no one exact entry point for a career in cybersecurity. Professionals can steer themselves into it from a variety of backgrounds such as Software Developers, Data Analysts, Database Administrators, Network Administrators, IT Customer Service, Web Administrators, and more. However, an understanding of technical processes is a must-have to proceed into this career path. Also, instead of starting as a fresher in this career path, you may begin as a regular IT professional and navigate your way into a cyber-security expert.
ceh jobs in india for freshers
best online cyber security certificate programs
17
cyber security certifications 8,044
cyber security certifications for beginners 275
cyber security certification

 

1,799
cyber security certification path

 

298
32,357 cyber security jobs
30,189
cyber security salary
16,127
cyber security certifications
8,044
cissp certification
5,982
security plus certification
4,644
security certification
3,603
security+ certification
2,664
cyber security training
2,633
cyber security analyst salary
2,510
certified information systems security professional
2,372
best it certifications 2019
1,889
cyber security certification
1,770
cybersecurity certificate
1,461
top it certifications 2019
1,230
best it certifications for beginners
1,230
cybersecurity courses
1,089
comptia security+ salary
1,060
cyber security course
991
cyber security schools
880
certified information security manager
758
best cyber security certifications
677
top cyber security certifications 2019
677
free cyber security training
598
cyber security analyst jobs
585
ceh certification requirements
559
cyber security classes
546
cybersecurity certification
534
network security certifications
445
it security certifications
432
best cyber security schools
432
cyber security jobs no experience
432
cyber security courses
420
cybersecurity for beginners
407
comptia security+ exam cost
395
ceh certification cost
371
cyber security certificate
371
online cyber security certificate
346
security certifications
334
cyber security certification path
298
comptia security+ exam
298
cyber security training courses
287
online security training
287
cyber security certifications for beginners
275
top cyber security schools 2018
275
learning cyber security
263
top cyber security certifications
252
cyber security courses online
252
best cybersecurity certifications
240
security plus certification salary
300 ccsp vs cissp
218
physical security certifications
218
top cyber security schools
218
entry-level cyber security certifications
207
cybersecurity analyst entry level
207
best cyber security courses online free
196
cybersecurity online courses
196
it
courses online for beginners
185
best certs for cybersecurity
185
best it security certifications
174
free cybersecurity courses
163
cybersecurity training online